Project::1992 240SX drift
AfterHours project 240SX SR20DET Drift/Roadrace
NOT JUST a drift car
Built primarily for Fomula D and D1 competitions, this S13 is unlike most of the drift cars out there. The sponsor of this project,
Intrinsic Performance Solutions, wanted us to build somthing that could go sideways yet still be quick around a road course.
Innovative aerodynamic features not normally associated wth your normal drift mobile were designed and fabricated in house
here at After Hours. Also, a higher level of preparation is required to survive the 20 to 30 minute sessions of a road racing event.
Cooling, aerodynamics and safety become critical. We have re-engineered this drift car to become a formidable threat on the track.
Of course, IPS wanted more power to go with this chassis. So in adition, we fabricated a custom turbo system to boost power to
over 400hp at the wheels.

This car was "discovered" at a Formula D event and hired for the movie Fast and the Furious Tokyo Drift. Talk about your fifteen
minutes. (actually two seconds at the end of the drift challenge scene)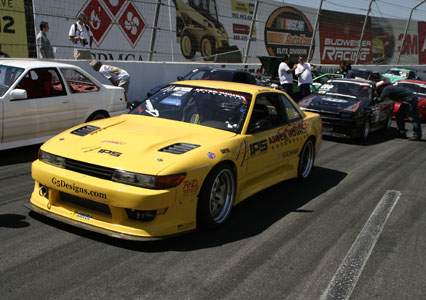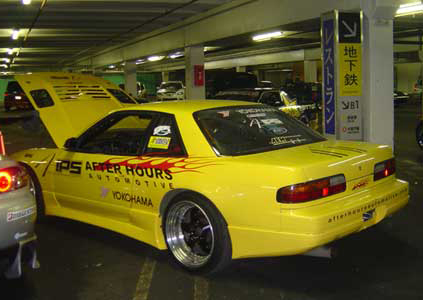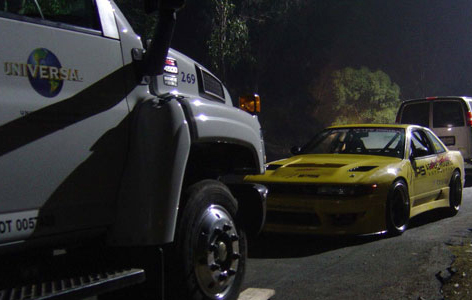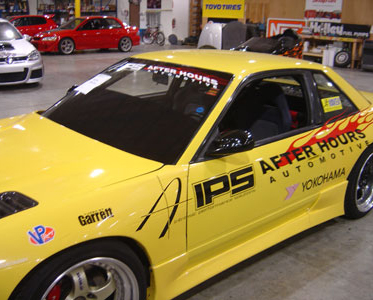 This car ain't only a movie star though.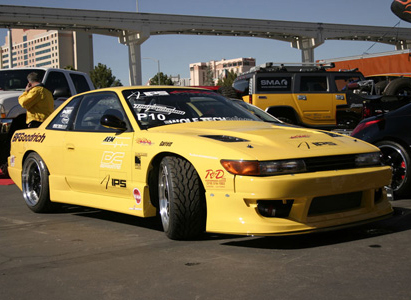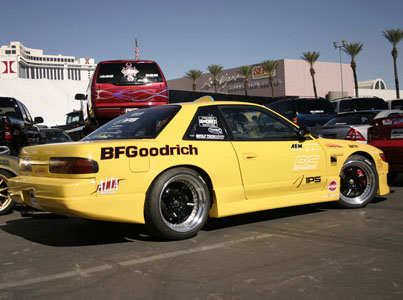 BFGoodrich sponsored the car to appear at the 04 SEMA show. We also ran in the drift exhibition at the first GT Live at California
Speedway with Benson Hsu at the wheel. One JGTC driver was so impressed, he wanted to have his picture taken with the car.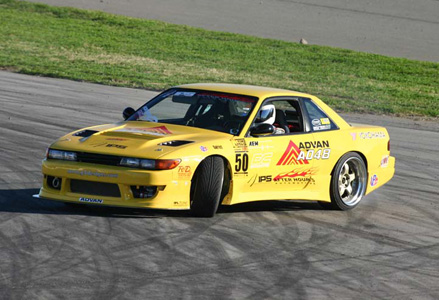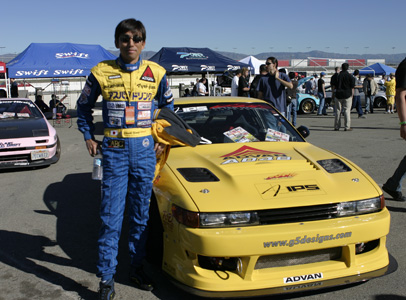 tech features
The sponsor, IPS, wanted to put pro-racing technology into this project to represent their commitment to quality and performance.
No compromises were made with any of the components which gave us the freedom to design and fabricate some really cool features.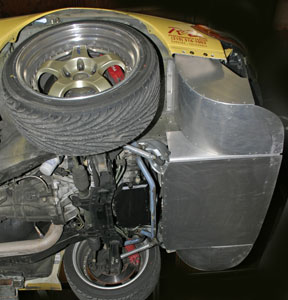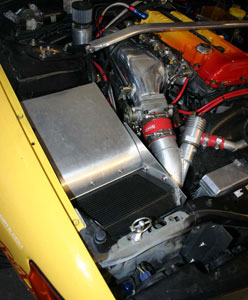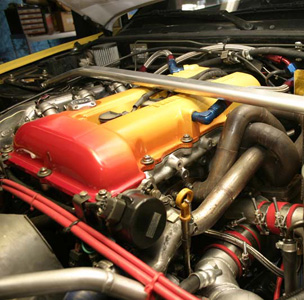 The Garrett 2871R Turbo is bottom mounted to a DC sports header. We fabricated a custom "stepped" intercooler piping system
with an integrated recirculating blow off valve system. (This is neccessary when running a MAF controlled system to prevent venting
of metered air causing a temporary rich condition and turbo lag.) The intercooler is a unit from a Skyline GTR which has nice, tapered
end tanks. The intake manifold is an Escort sheet metal unit with Nismo 550cc injectors. The motor has custom JE pistons, JWT cams
with adjustable gears, and a HKS boost control unit all managed by an AEM EMS ecu. This conservative combination with a mild tune
netted us 446 very reliable horsepower at the rear wheels on R&D's dynojet.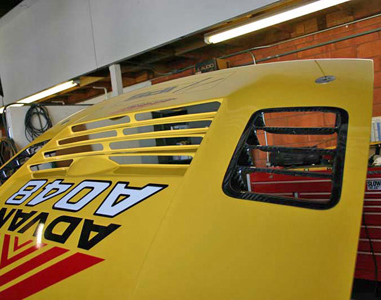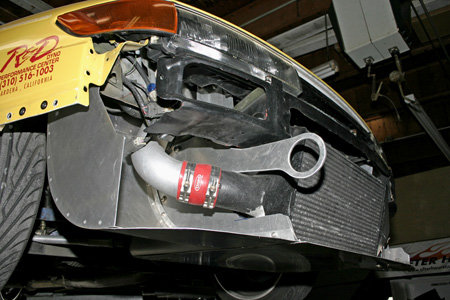 Cooling this monster was another issue we faced. Road racing flat out for 20 to 30 minutes at a time puts maximum demand on the
cooling system. And, even though only 2 to 3 laps at a time, drifting is excecuted at high engine rpm and low road speed which
reduces the airflow meeting the radiator, oil and intercooler. We designed a custom front bumper/splitter/duct system to get as
much air to as poosible to cool this beast.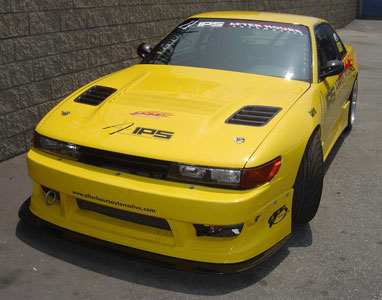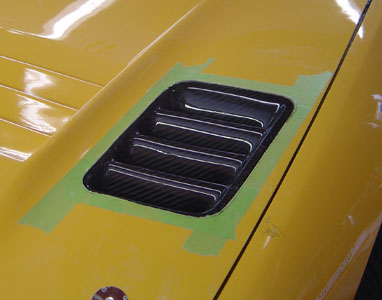 The front bumper/splitter assembly was designed for quick release with dzus fasteners. Underneath, is a rigid and lightweight ducting
system. The ducts are separated into three sections (L) top mount oil cooler, (C) intercooler and radiator, and (R) cold air intake.

The ducting seals completely to the front end and provides solid support for the splitter. The splitter itself is an aircraft ply core
with carbon/epoxy skins and a carbon rope weave leading edge for impact resistance.The air entering the front is forced through
the coolers and out through the exit ducts in the hood which aids cooling and offers some "free" downforce. Because the air has
an escape route, it doesn't pack up underneath the hood causing unneccessary drag and lift. The carbon exit ducts are
manufactured in house by After Hours and can be installed in almost any hood or similarly curved location on a race car.
Check our other website
www.afterhourscompositeworks.com
for details.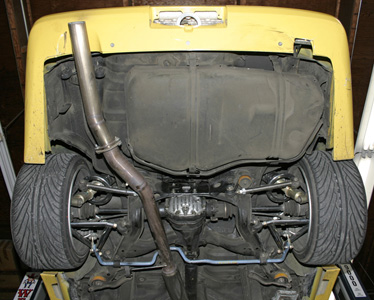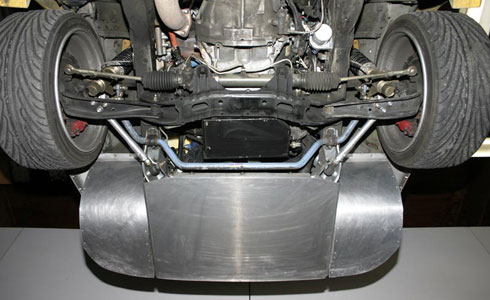 There are subtle differences between drift and grip chassis setup. Since this car was built to compete in both, we needed to have
a fully tunable suspension. Nams adjustable a-arms support the Tein HE coilovers at all four corners with whiteline anti-roll bars.
The differential is a Nismo plate style unit which is adjustable for preload and lockup. The drift tires are Yokohama ES100s and for
road course are the sticky Advan 048 r-compounds.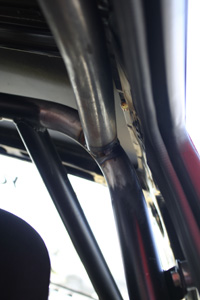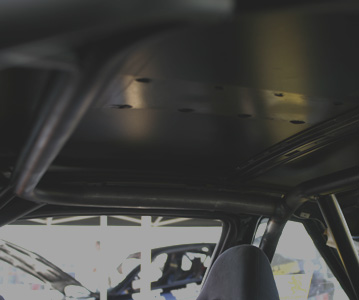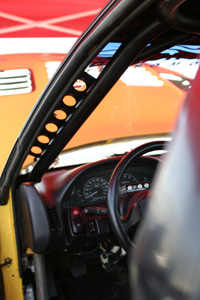 The rules were changed for Formula D in 2005 making forward roll cage bracing mandatory. The original cage was a four point
making it neccessary for us to add a halo bar and forward legs through the dash. We welded in tube and plate gussets for added
strength. AfterHours can custom design and fabricate a roll cage to meet the specifications of any major sanctioning body.