porsche 996 / 997 Gen 2 sport Exhaust mufflers
Wife/Girlfriend approved.
new gen 2 mufflers for the 99-05 996 and 06-08 997s normally aspirated carrera-just released!!
We have designed the Gen2 exhaust systems for the Porsche enthusiast who enjoys the wicked sound of a racecar exhaust, but still wants to drive around town with minimal resonance at low rpms. The Gen 2 Porsche sport exhaust nails it!
The first gen systems were engineered for ulimate power with light weight and just enough noise control to keep the men in blue from pulling you over. While we still make our first gen systems, some customers were asking us for something a little quieter and more socially acceptable. So, we went back to the drawing board and designed the Gen2 versions.
The Gen2 exhausts have the same tubing size and and are of the same high quality TIG welded construction as our original first gen exhaust. Our dyno testing has shown the Gen2 having the same gains in torque and horsepower as with the first gen systems. The difference is in the muffler design. We have engineered these systems to take the "edge" off the sound making them "Wife and Girlfriend approved".
The Gen2 systems use our own 4" diameter (vs 3.5" gen1) stainless steel mufflers. The straight through design has proven itself to be optimum with the least flow restriction (for horsepower) while still providing the proper backpressure for low and midrange torque. Our mufflers feature all stainless steel construction for durability. We wrap the perforated core with stainless steel wool to protect the second layer of high temp ceramic insulation material. They are more expensive to manufacture and slightly heavier than our first gen mufflers but, have been dyno and road tested to provide the performance and more refined sound sought by our more sane customers.
The Gen 2 is available now for the 996 and 997 normally aspirated applications.
highlights
100% Stainless steel, hand fabricated in the USA
Extreme high temp packing, Stainless steel wool with space age ceramic blanket material
Emissions legal and will not cause CEL, mounts after factory catalytic converters just like stock
Easy to install, bolts to factory brackets and uses factory or aftermarket tips. All neccesary hardware is included (tips not included, '99 996 owners will need to purchase tips- 997 non-S cars will need to purchase the larger S tips, the stock non-S ovals will not fit)
Engineered by an experienced race shop and extensively road tested before going into production
Dyno proven HP and TQ gains vs. stock Porsche mufflers (avg 10hp / 12tq)
Special design eliminates almost all resonance into the cabin, which is a typical issue with aftermarket Porsche sport mufflers
Estimated 50% as loud at WOT as bypass pipes, 1.5x as loud as stock Porsche mufflers at idle
Sporty and powerful refined sound (watch videos!)
Very quiet in the cabin at cruising speeds and typical town speeds under light to part throttle conditions (watch videos!)
Fits all '99 > '05 Porsche 996 non-turbo cars including S and '05 > '08 4S, and 997, S, 4S
An powerful sounding Porsche exhaust muffler system that won't get you arrested or divorced
Dyno Results
AfterHours Gen2 Sport Mufflers are designed to give your pcar maximum HP and TQ output, and is a simple muffler swap to install. We've done a number of dyno tests on both 996 and 997 cars and the results have shown consistent performance improvements of around 10hp / 12tq at the wheels. All dyno tests were done on a Dynapack Dyno with stock cats, stock headers, and stock ECU software.

996 Gen2 exhaust system
$1095 plus shipping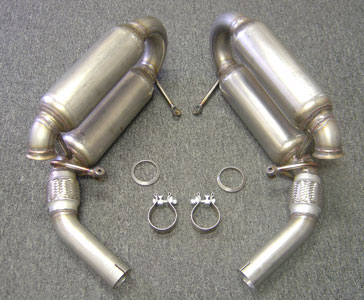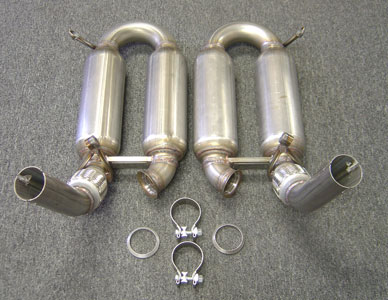 997 Gen2 exhaust system
$1195 plus shipping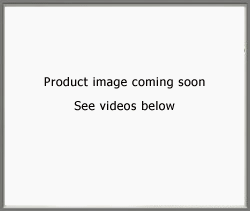 Videos
---